Accucraft Ragleth - Purdy

Ok, time to get a little bigger! This is an Accucraft Ragleth 0-4-0 Loco, it is gauge adjustable from O to 1 but in
scale is 16mm to 1 foot. It has Simulated Stephenson's link valve gear and a reversing lever in the cab, it is internally
gas fired. These first pictures were taken straight out of the box. Video of it's first run here. Latest video here.
Compilation video here. Latest compilation video, Purdy hauling freight here and here and here.
Purdy now has a Summerlands Chuffer fitted, there's videos of her first run here and here. The Swift Sixteen
Well Wagon has allowed me to mount the video camera in front of Purdy. So here is a ride around The Milford Hill
Light Railway from a slightly different perspective.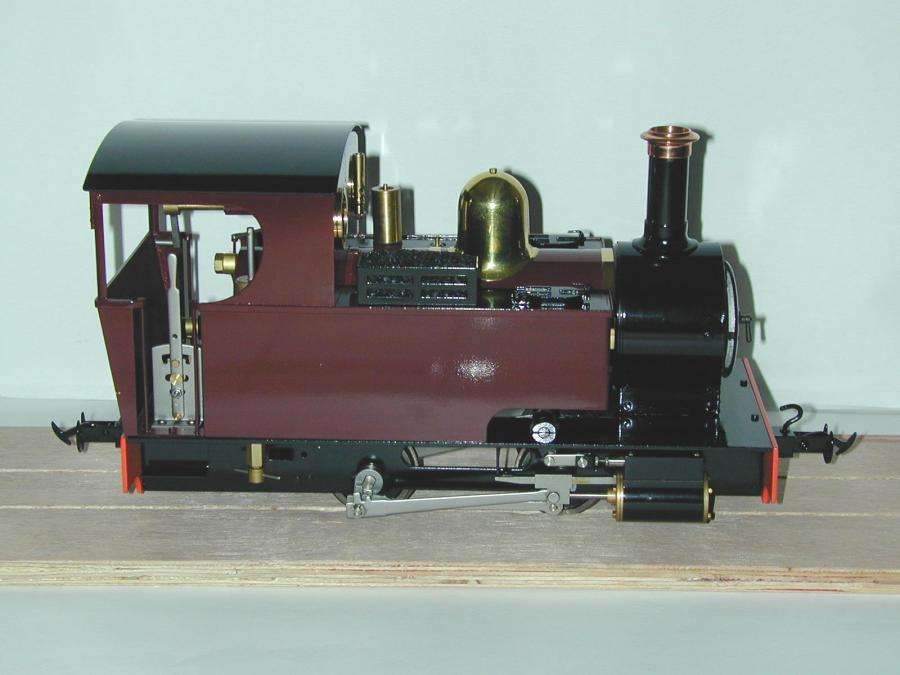 ---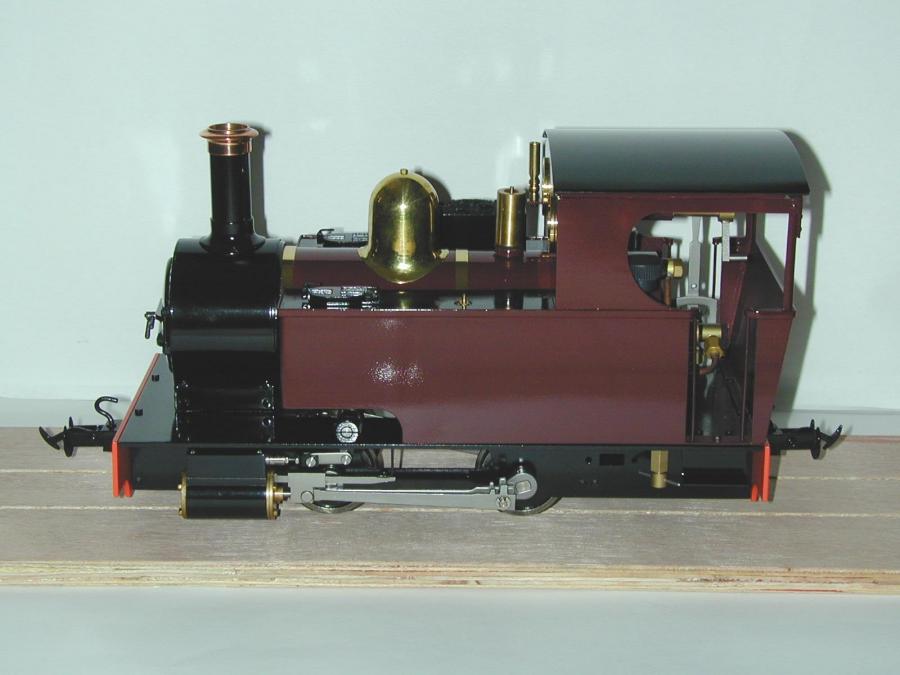 ---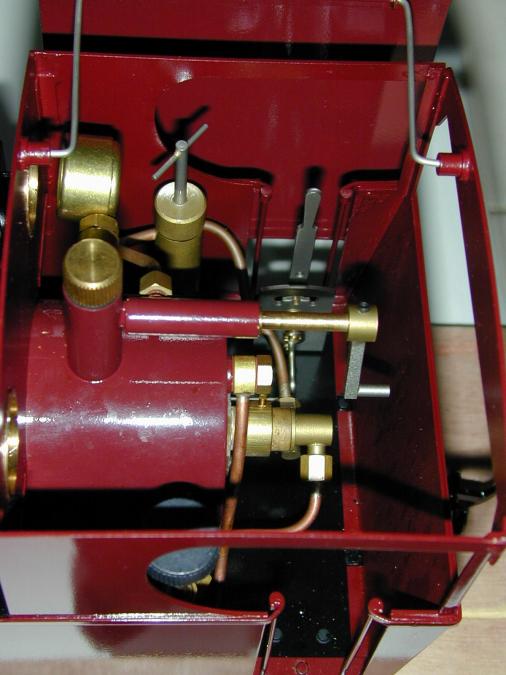 ---

My first attempt at modifying the Ragleth, it now sports a small coal bunker with real Welsh coal! Theres's a short
video of it pulling the I P Engineering W.H.R Coaches here.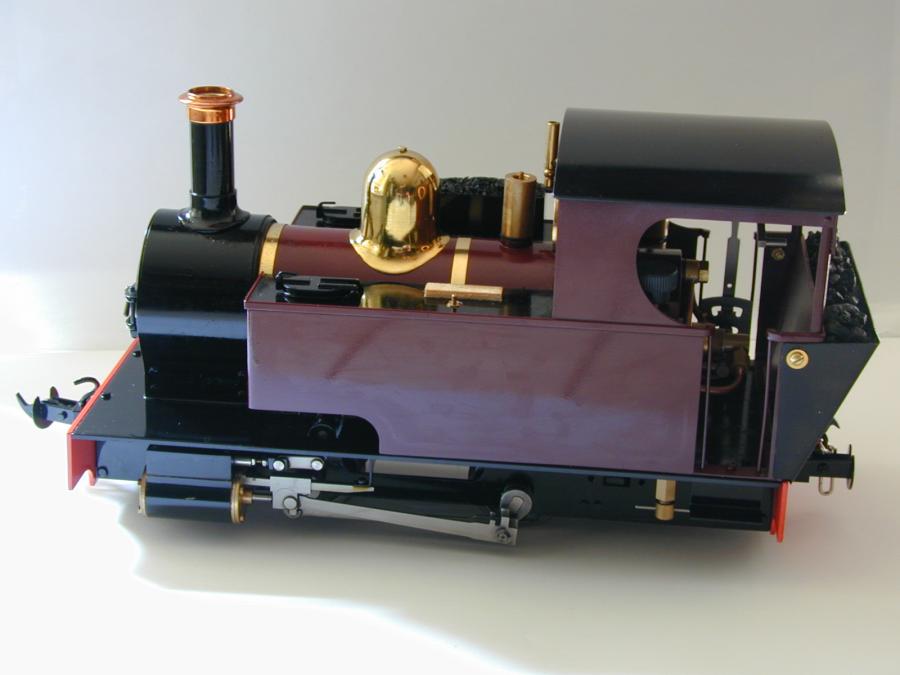 ---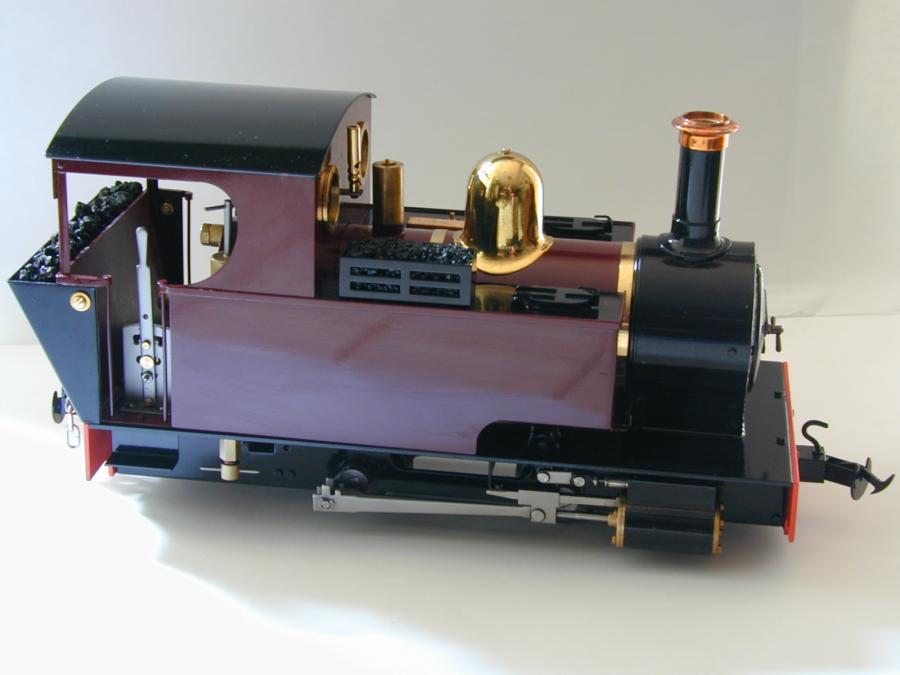 ---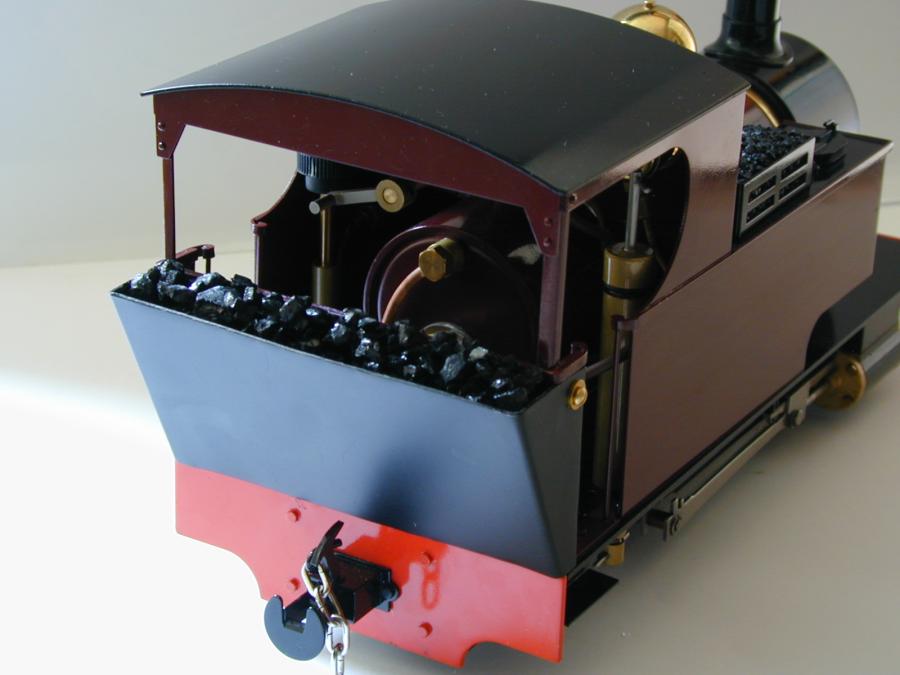 ---

Latest modifcations to the Ragleth. It's now sporting a second lump coal basket and very nice brass safety valve
cover from Swift Sixteen. Also, the part i'm particularly pleased with is the rear spectacle plate. The spectacles
came as a kit from Swift Sixteen and although fiddly to assemble turned out quite well. I was very lucky with the
paint match which is Ford Burgundy Red from Halfords over a black primer, you really have to look hard to see
the difference from Accucraft's original.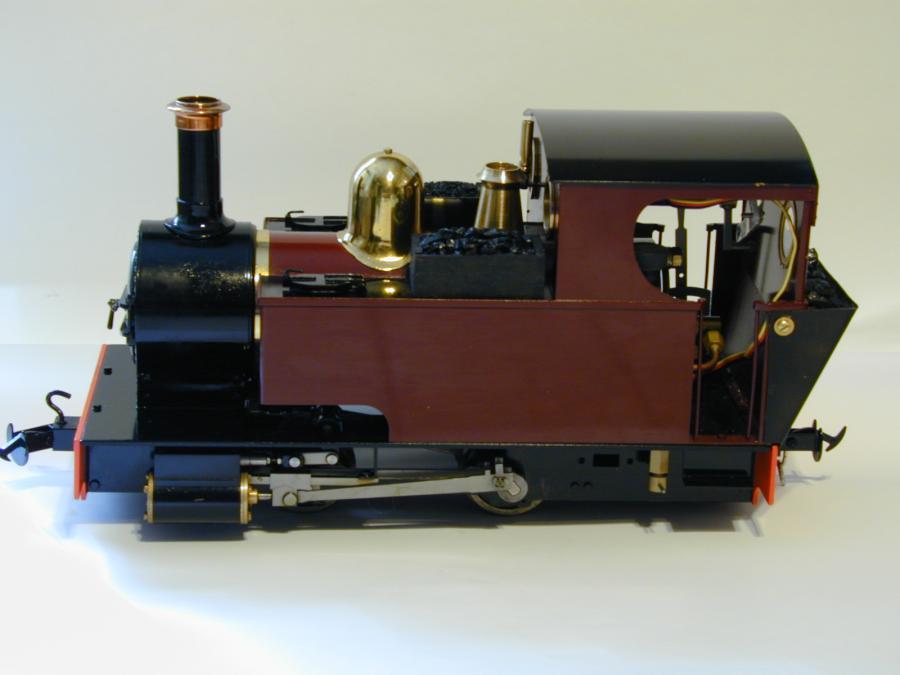 ---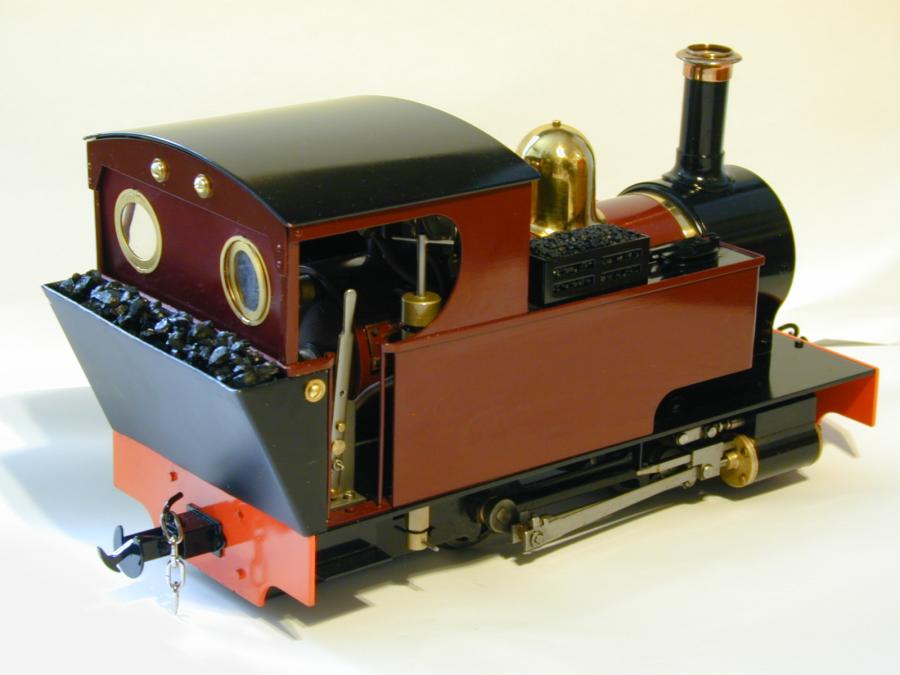 ---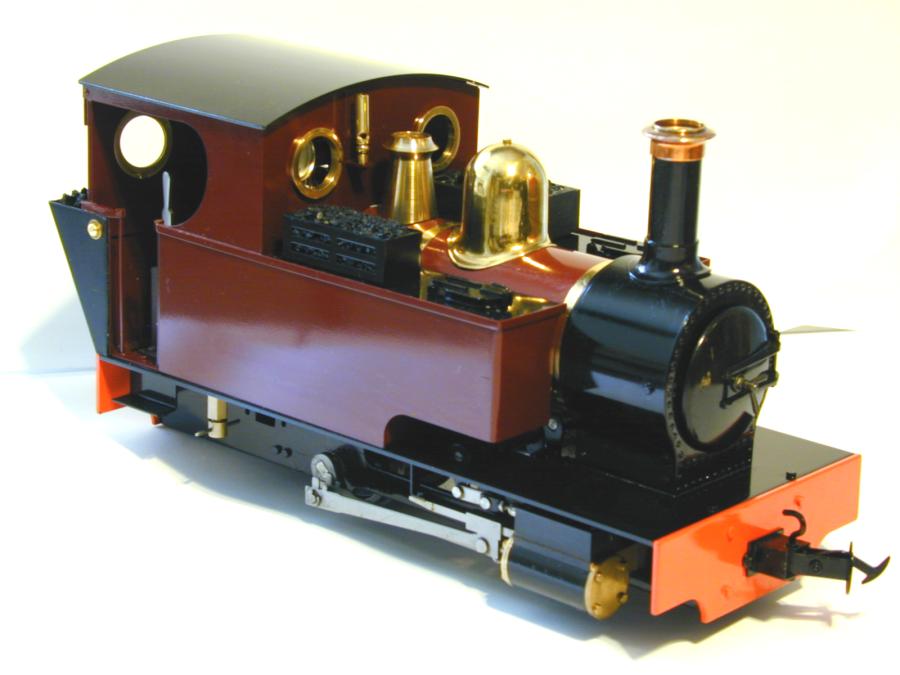 ---

The Ragleth with all the Milford Hill Light Railway 16mm Rolling Stock.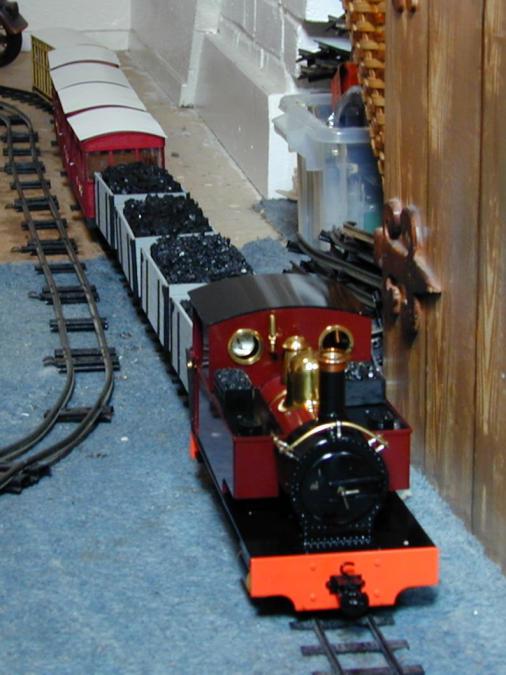 ---

This is Purdy, the Ragleth in pretty much it's final form now with a smokebox handrail and a name plate courtsey
of Narrow Planet. A couple of new videos, Purdy successfully negotiating the Turntable here. and pulling load of
coal for Grumbly Gasworks here.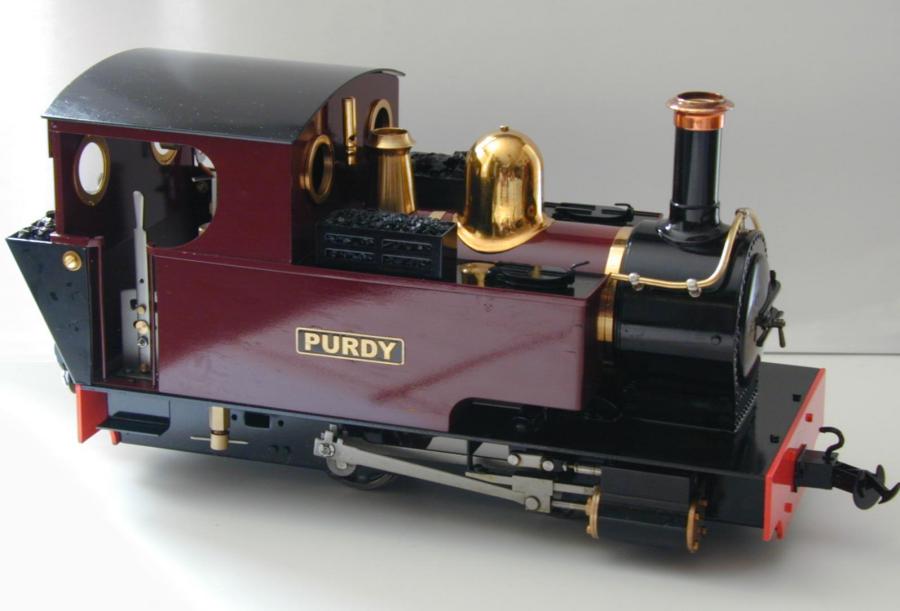 ---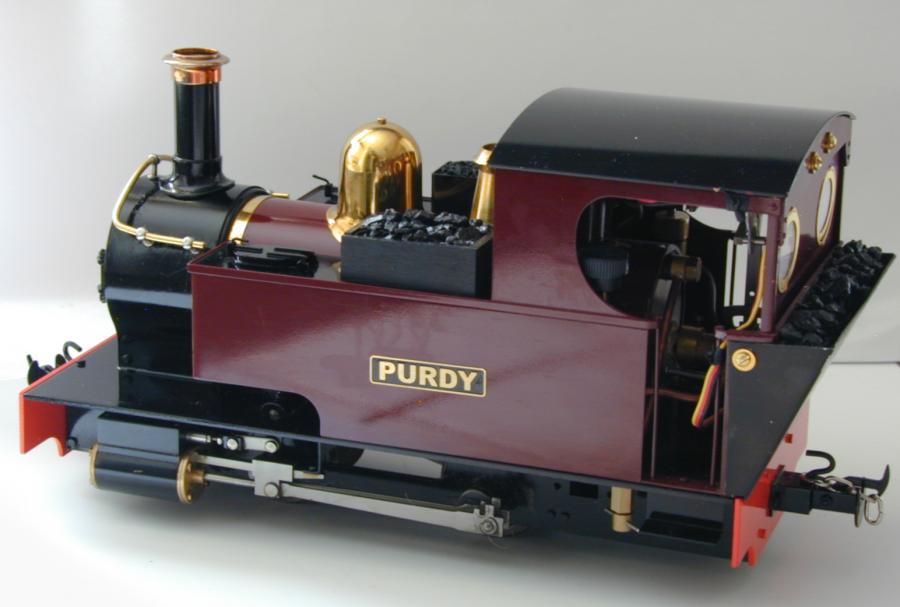 ---

Purdy now has a driver, thanks to Model Town. I'd like to introduce you to Ed!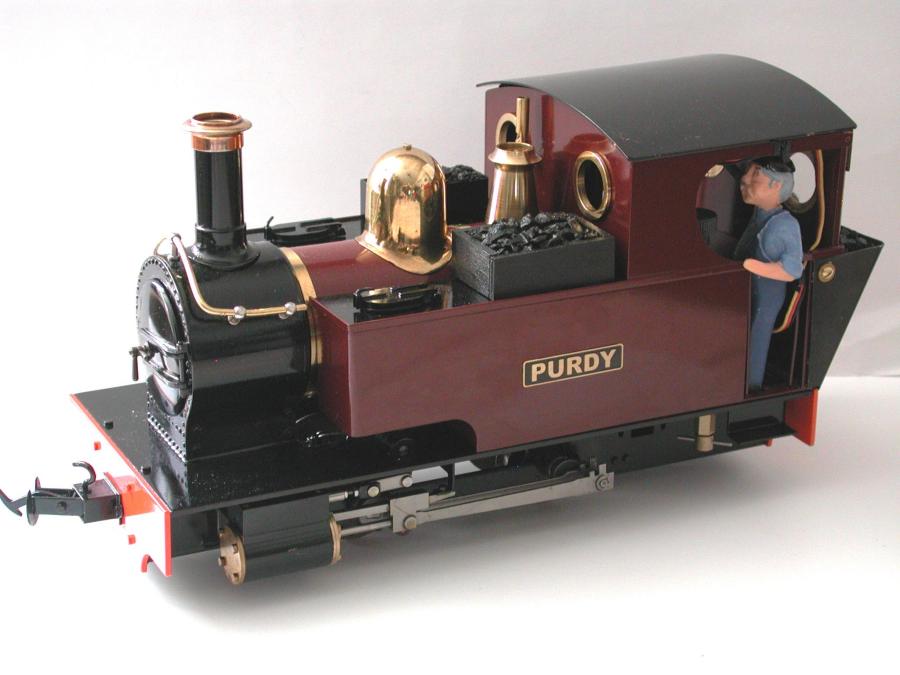 ---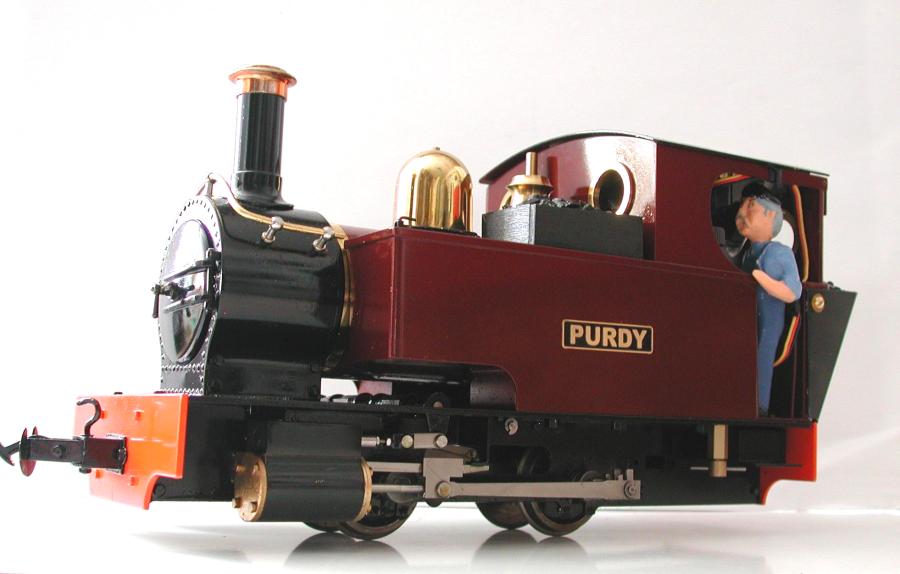 ---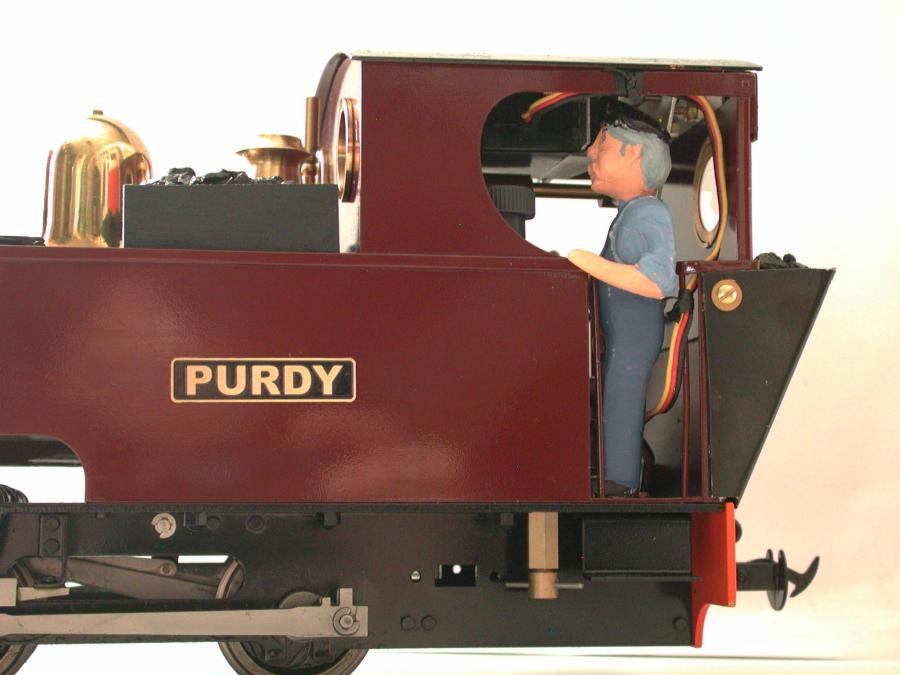 ---

A couple of pics showing off Purdy's new buffers.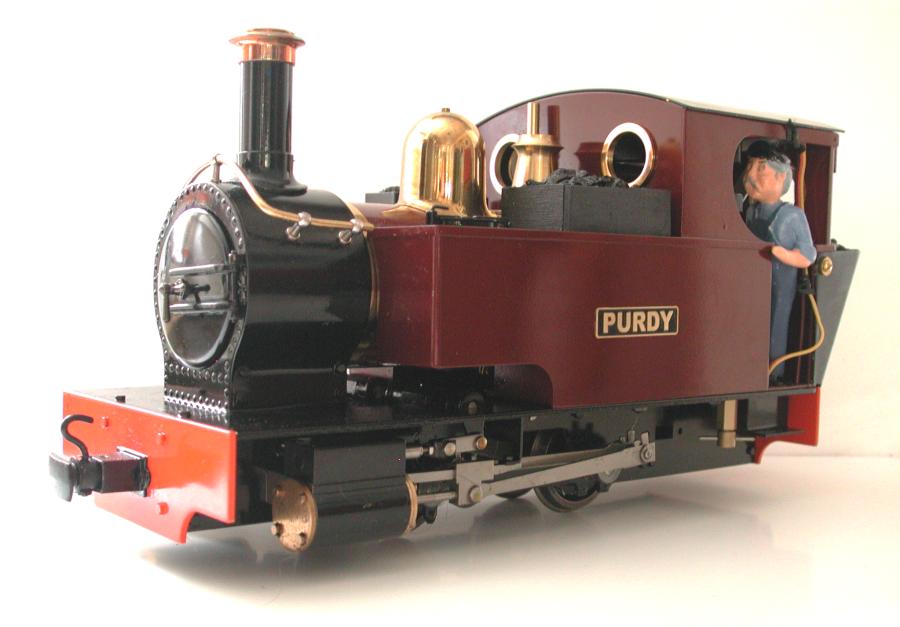 ---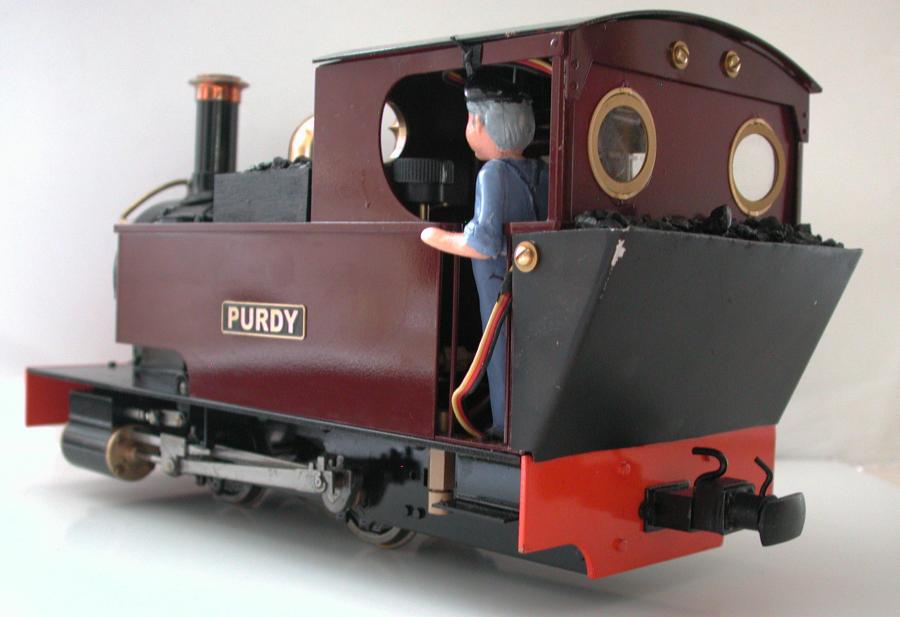 ---

Latest modifcation to the Ragleth, Purdy now has a tool box and a working lamp.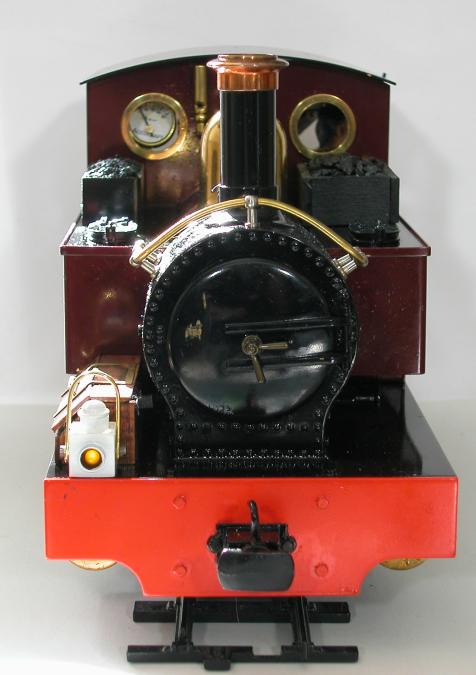 ---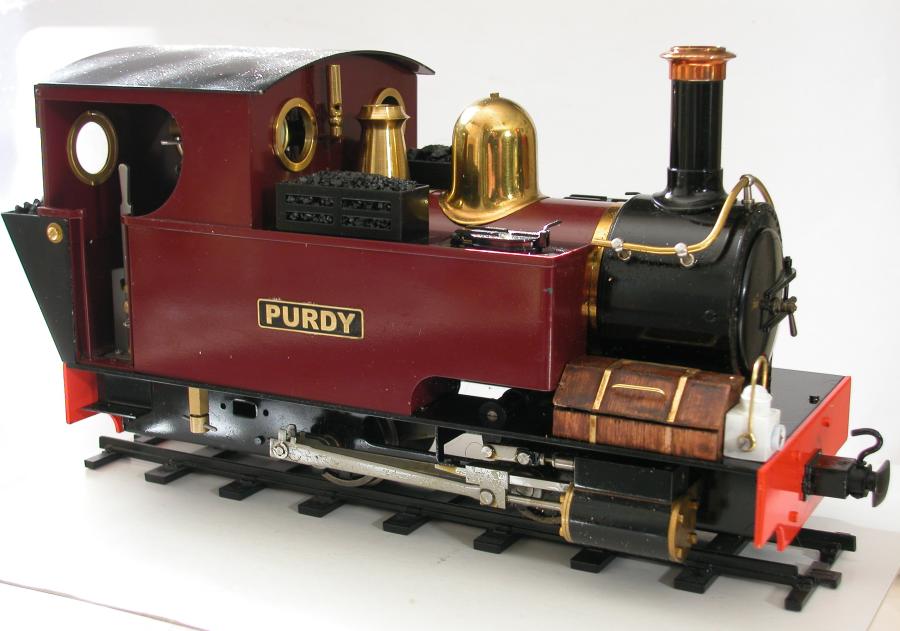 ---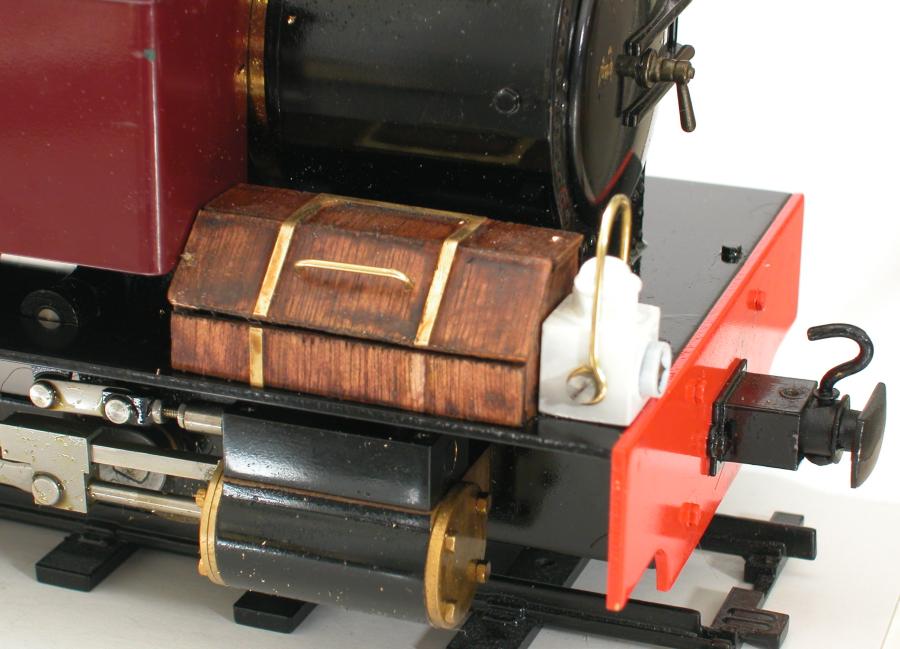 ---

A shot on the line clearly showing the whistle.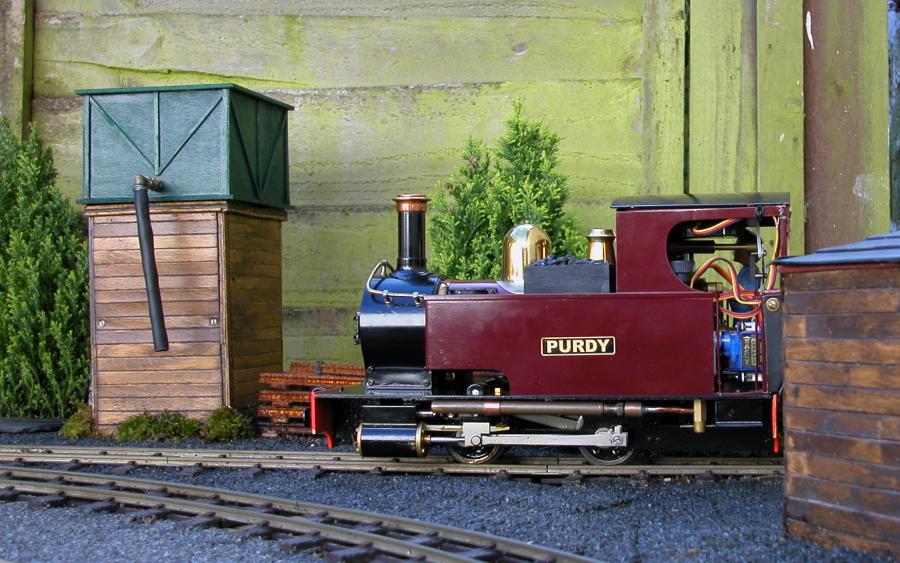 ---

Purdy was my very first 'proper' locomotive and has had many modifications along the way. Some of which i was never
really happy with so i've finally found time to address 2 of those. The second lump coal basket has been remade,
this time out of brass sheet and is the same size as the original one. Also the rear coal bunker has been resprayed
to match (almost) the engines main colour.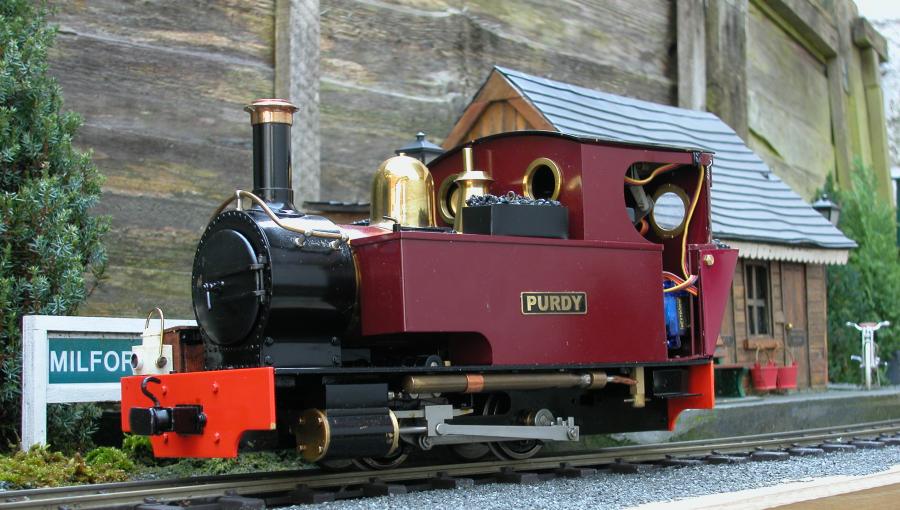 ---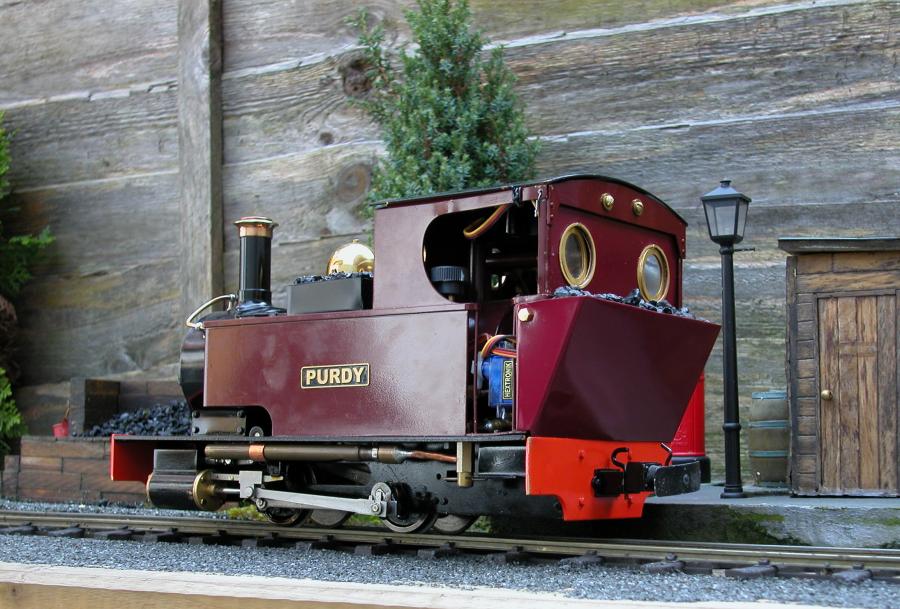 ---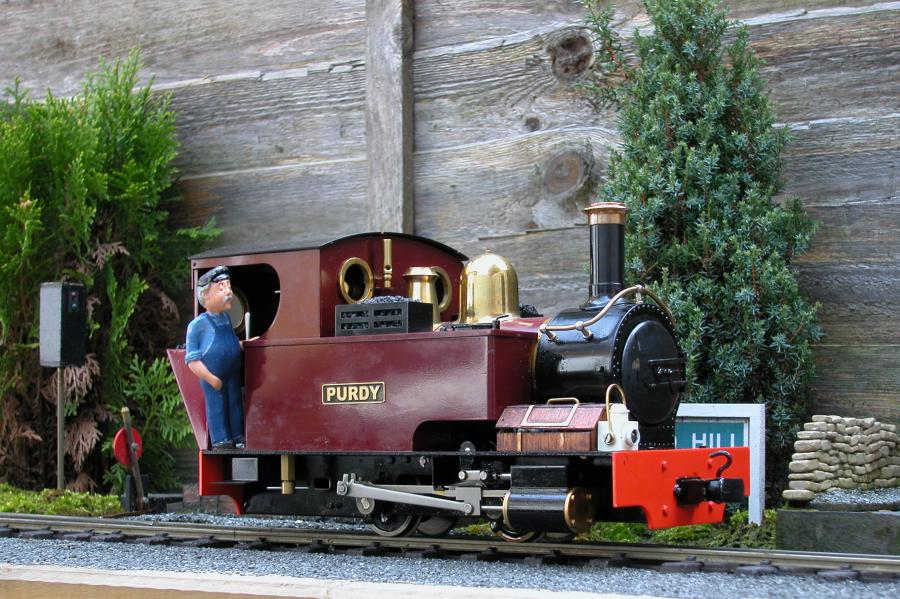 ---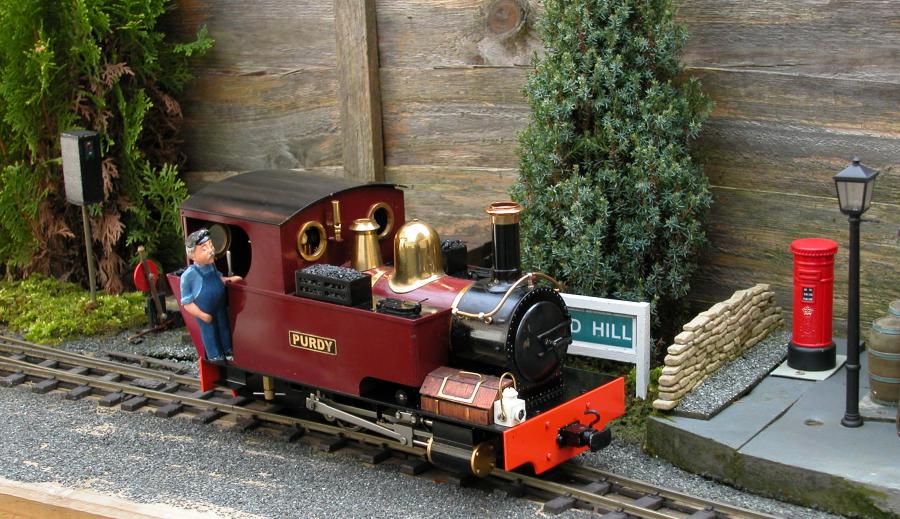 ---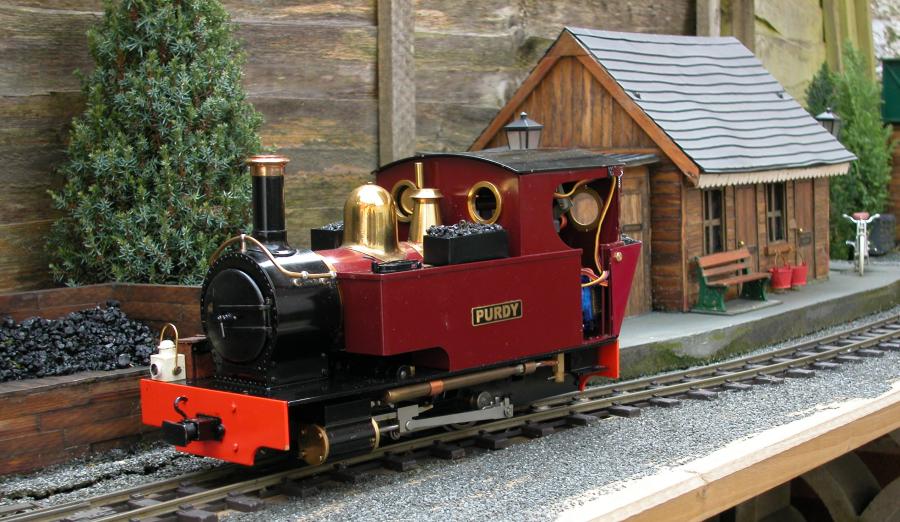 ---

According to Accucraft 'the Ragleth is a freelance side tank locomotive with design
inspirations from Manning Wardle'. So i did some research into Manning Wardle
locos and came across some pictures and videos of a beautifully restored 1915
Manning Wardle 0-6-2T loco 'Chevallier'. I was pleased to see that my guess for the
coal bunker was actually about right. Currently manufacturing a rear spectacle plate and
then the next job will be a handrail for the smoke box. Pictures of Chevallier below and
links to the videos here, here and here.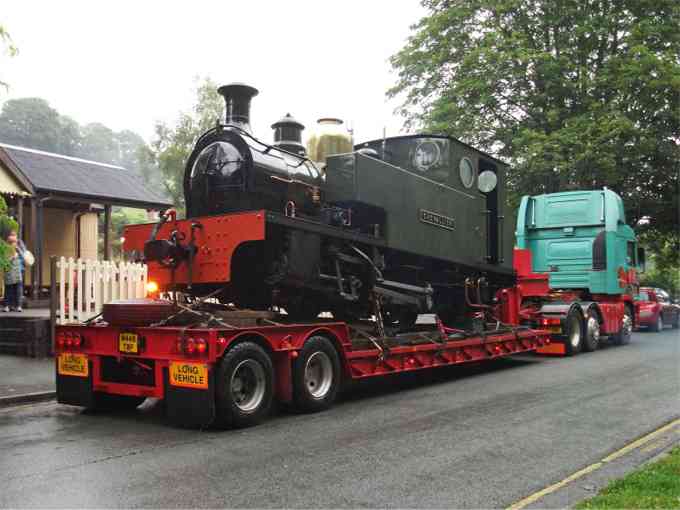 ---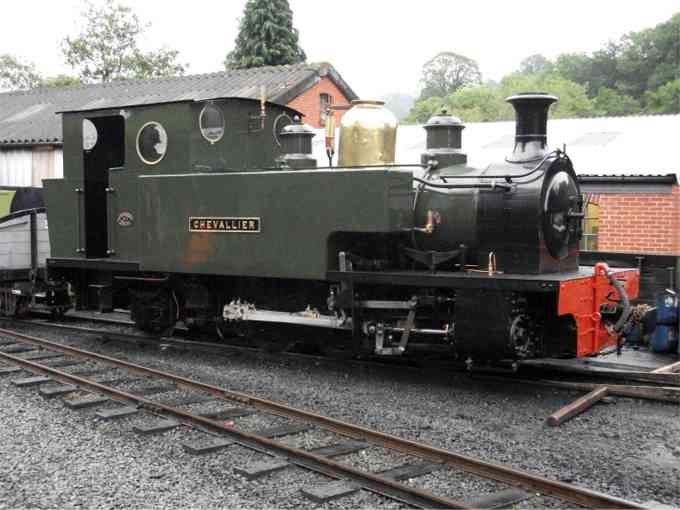 Back to Steam Locomotives
Back to TMHLR Main Page
---
---